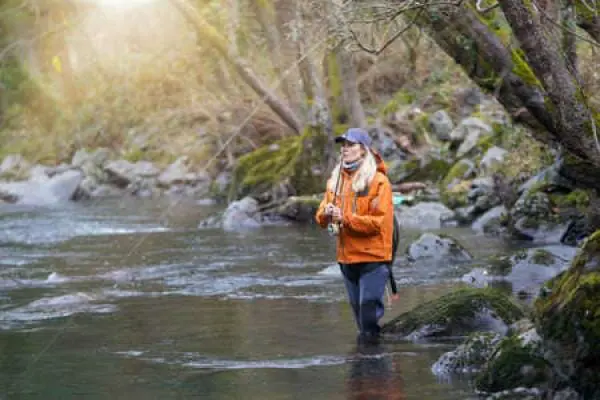 For more than a century and a half, people have traveled to Kennebago, Maine to experience its natural beauty and fly fish in its plentiful bodies of water.
In the early days, people would hike nine miles through a dense forest to reach the lake. Later that trip was replaced by a 12-mile wagon ride and then by a rail bus and steamboat. People kept coming back for the same reasons they do today: the plentiful fly-fishing opportunities, the natural beauty, the world-class amenities, and the opportunity to get away from the hustle and bustle of everyday life.
Fly Fishing Opportunities
When you come to Grant's Kennebago Camps, you'll have the chance to catch Native Brook Trout and Landlocked Salmon that weigh up to five pounds and Brown Trout that weigh up to nine. We have multiple bodies of water to fish in, entirely surrounded by nature.
Kennebago Lake is five miles long, more than 100 feet deep and more than three-quarters of a mile wide. You can find both salmon and trout in the lake. The Upper Kennebago River flows from the lake into The Logan and can be waded most of the year. The river features trout and is perfect for canoeing. The Logan, meanwhile, is located where the upper river and lake outlet meet. It contains large trout as well.
The Lower Kennebago River offers six miles of free-standing granite boulders and 30 pools to choose from, containing both trout and salmon. The Flat Iron Pond can be accessed via a short, well-marked hike. There are canoes available at the pond for fly fishing large brook trout.
The Amenities
Grants Kennebago Camps is the perfect family getaway. In addition to fishing and the remote nature of the camp, you'll enjoy the hospitality of a traditional sports camp. You'll be assigned a comfortable, clean and fully furnished cabin that fits with the size of your group.
You'll get three home cooked meals each day and housekeeping service will be provided. Start your day with a hearty breakfast to get you ready to fish. We can pack a lunch for you to take with you on your adventure. If you catch a fish and want to eat it the same day, just bring it to the dining room and the chef will prepare it for dinner. If not, enjoy a dinner menu that includes lobster and prime rib and changes daily. The dining room serves not only as a place to eat, but as a place to share tales from the day's activities.
If this sounds like an ideal vacation for you and your family, contact us to get your reservation booked today.